Review: Duo Concertante at Mahone Bay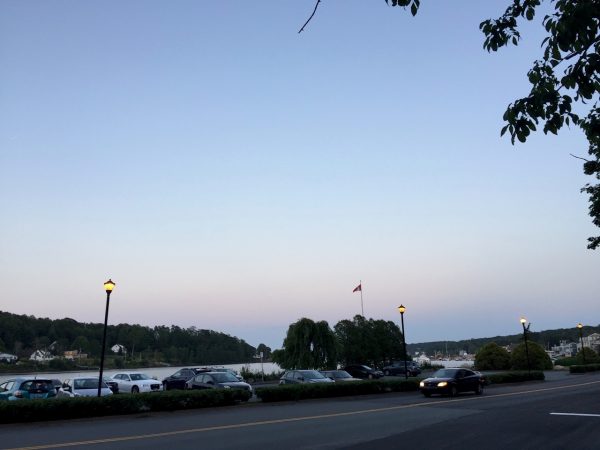 Mahone Bay Summer Concerts 2016: Duo Concertante – Nancy Dahn (violin) and Timothy Steeves (piano)
Trinity United Church, Friday, July 15, 2016
---
It's surely a sign that summer is flying past when half of the anticipated Mahone Bay Summer Concerts have now taken place. The second of four presentations happened Friday night in Trinity United, one of the three iconic churches famously portrayed in picture postcard images of the lovely seaside town, which provide the performance venues for the Music at the Three Churches concerts. Violinist Nancy Dahn has roots in the area, and it's always great to welcome this busy duo home from life on the road and their teaching jobs at Memorial University in Newfoundland.
Duo Concertante is a busy touring husband and wife team, with performances this season alone in five provinces, the UK and Germany. They've also recently released a new two CD set recording of all six violin and keyboard sonatas by Bach, in addition to keeping up their busy teaching and master class schedule.
Their program in Mahone Bay included Bach's Sonata in B minor, BWV 1014, works arranged for them by the late Clifford Crawley, and the major piece on the second half of the concert, César Franck's Sonata in A major. It was a hot muggy night following a daytime 40 degree reading on the Humidex, but the audience enthusiastically received these works, and as always at the Three Churches concerts, enjoyed refreshments and chat on the lawn outside at intermission.
The second work in the first half was Tartinjana Seconda by Luigi Dallapiccola (which Timothy Steeves introduced by reminding us how much fun it is to say the composer's name) and which sometimes reminded me of Bartok's Romanian Dances – somewhat angular, assertive and occasionally strident. This is a short four- movement work by the twelve-tone composer, who died in 1975.
Before the concert we had read the unfolding news of the coup in Turkey, and with friends travelling throughout that country, it was this uneasy event that was on my mind during the variations in the last section – as the mainly minor movement ended a in triumphant major key.
The three works written ("arranged" seems too simplistic a term for these piano-violin duos) by Clifford Crawley were virtuosic for both players. Luis Bonfa's Black Orpheus (was that the tune snatched for A Day in the Life of a Fool?) ended ethereally with chromatic slides in the violin, and Crawley's version of The Lark opened with an hommage to the familiar Lark Ascending on beautiful solo violin. It's a Beautiful Day for Falling in Love by Richard Rodgers had a breezy waltz time with lots of piano glisses, finishing with a carousel-like ending.
The César Franck Sontata must be a tour de force for both players at the best of times, but in that hot setting, one felt for Duo Concertante; however, they never flagged, with their collaboration even extending to a key page turn in the piano part by violinist Dahn. I suppose it's fair to say that the ending sounds very French? The work alternates between the sweet and the bombastic, with Dahn's deliciously dark sounding violin in the low register resonating to the very back of the old wooden church. Bravo to the Duo C!
The previous night I was privileged to hear the great Canadian jazz pianist Oliver Jones and his trio in another hot church, this time at St. Matthew's United in Halifax as part of the 2016 Jazz Festival. During intermission we learned of the terrible news from Nice, and it was much on my mind during the second half of that show, especially while the Trio performed Oscar Peterson's Hymn to Freedom.
Sitting in a small church with a wooden roof in rural Nova Scotia, looking at the hand-lettered PEACE sign near the altar and a wall hanging of the three Mahone Bay churches with the familiar words, All Things Bright and Beautiful, it's easier to feel small and safe. World events can seem a world away, and I was reminded again that we sometimes need to turn off our devices for a couple of hours, and let musicians like Duo Concertante and Oliver Jones restore our frayed edges in beauty.
You'll get a chance to do this twice more this summer – another husband and wife team, Baritone Andrew Tees and pianist Kate Carver bring us Schubert's magnificent Die Schöne Mullerin on Friday, August 12 in St. John's Lutheran, and then it's the Blue Engine String Quartet with soprano Suzie LeBlanc on Friday, August 26 at St. James Anglican. Unplug and head to Mahone Bay.